Climate change is a global, multi-dimensional challenge impacting us all. Its significance transcends boundaries, both geographical and generational. It's not the narrative of a single nation, but the collective legacy we bequeath to our children. And it demands our attention and action today. Globally in our industry, "Sustainability and Marketing" ranked third among global marketers' priorities, after "Marketing Effectiveness" and "Marketing Capabilities".
Here in Singapore, the Singapore Green Plan is our commitment as a nation towards sustainable development. Some of the key targets include reducing the waste sent to landfill by 30%, and having vehicles that are cleaner-energy models from 2030.
Environmental sustainability is our passion here at Stellar Ace, we are the first and still the only OOH media owner using 100% eco-friendly materials and ink to produce advertising assets since 2017. In fact, that same year, we had embarked on the "Green Journey", a comprehensive and coordinated series of workflows designed with sustainability in mind that consider the entire life cycle of each client's advertising campaign, from the supplies and processes used, to end-of-life recycling.
As Singapore's largest OOH media company, we believe in playing our part and supporting our clients as an eco-system to provide advertising efforts that are gentle and good for the Earth.
Use of Sustainable Materials in Advertising
We hear the surge of concerns that companies and consumers have on the environmental impact and carbon footprint of advertising assets and have taken steps to eliminate the use of polypropylene.
Since 2017, we use only eco-friendly papers made entirely of wood-pulp and are sustainably sourced and meet the stringent requirements to be Forest Stewardship Council (FSC) certified. In doing so, it saves us an estimated 27.81 tons of CO2e per year.

When it comes to inks, we choose to use the most environmentally certified technology. Our inks contain no Hazardous Air Pollutants (HAPs), are non-flammable and non-combustible, and are nickel-free. Gentle on the environment, even the consumable parts in the printing process are 100% recyclable, with annual manufacturing savings of 291 tons of CO2e reduction.
What Happens to Advertising Posters After a Campaign?
All printed posters are treated with utmost responsibility post-campaign. We have established partnership with recycling companies local and overseas that ensure proper processing in a cost-effective manner.
Smarter Use of Energy
Instead of using conventional fluorescent tubes, our eco-friendly advertisement panels feature energy saving T8 LEDs, resulting in a significant 67% reduction in electrical consumption. The T8 LEDs maintain excellent diffusion while saving an impressive 70% per panel. Moreover, they will be automatically turned off daily from 1am to 5am to conserve more energy.
Moving People, Going Green
Singapore is making significant strides towards a greener and more sustainable land transport sector, and to support this, we are expediting the use of Electric Vehicles (EVs) in our maintenance fleet.
Moreover, if you advertise on our taxi fleet, you are making a difference in supporting sustainable transport and making an eco-conscious statement on the road, with our fully electric, energy efficient and eco-friendly vehicles. This presents an exciting opportunity for companies who wish for their ads to be spotted on cleaner energy vehicles across the island.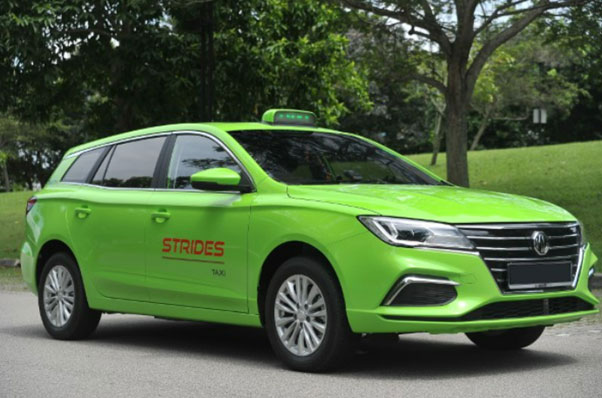 Your Partner in Sustainable OOH Advertising
Sustainability in OOH advertising extends beyond the installations themselves. It has the potential of achieving large-scale publicity, education and messaging through your company's environmentally friendly campaigns. Brands have an influential role in transforming and contributing to a cleaner and more sustainable future.
We are here for businesses who care about the environment. If you have an ESG-driven campaign in the works, from now to March 31, 2024, we are excited to offer you the Green Package, in which every asset purchased by you to promote your ESG initiatives will be matched by us, and you can choose from network solution bundles at half the cost. The production cost of the free assets will be absorbed by us.
Each package will save an estimated 0.022 tons of CO2e in carbon footprint and 199.73 tons of CO2e in light savings per unit.
With more than 20 years of advertising experience in Singapore, we're constantly pivoting as an industry leader. We've amassed a portfolio of collaborations and success stories that you can access at https://stellarace.com.sg/success-ideas/ and on our LinkedIn page at https://www.linkedin.com/company/stellar-ace/.
If you are looking for an Ace Solution to reduce the carbon footprint of your advertising efforts, get in touch with us today at a[email protected].